Who We Are
Mark beeson - artistic director
Mark Beeson is a playwright and anthropologist who grew up on Dartmoor. He read classics at university before switching to human sciences and working briefly as a primate ecologist. He has conducted and published research into the history of Dartmoor and its mythology. As a writer, he has read his long poem, The Blue Monkeys of Zomba, on BBC Radio 3, had four plays broadcast on BBC Radio 4, and written a book on Dartmoor for the Countryside Commission. He has created over thirty community plays, working extensively with teenagers and in primary schools as a workshop leader and director. Mark was the original founder of MED Theatre.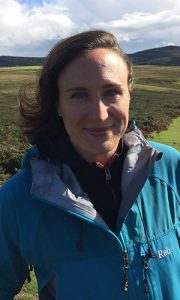 Abby Stobart - Education Manager
Abby has been MED Theatre's education officer since October 2008, and part-time Education Manager since 2016. She gained a First Class honours degree in drama from Exeter University in 2003 and went on to study an MA in acting at East 15 drama school in London. Throughout her training Abby gained experience in stage combat techniques, physical theatre, music and dance. Following her MA she worked as an actress for three years in London and toured schools across the UK and Ireland as an education worker. Keen to work with a company that would reach out to local communities and young people, Abby returned to Devon, where she was delighted to join MED Theatre.
Gillian Webster - company development officer
Gillian Webster has been involved with MED Theatre since 1987 on a freelance basis as a musician, composer, and creative music workshop leader. She joined MED Theatre's staff base as Company Development Officer in September 2009, working 3 days a week. Gillian studied physics with geophysics at Exeter University, completing research for a PhD in crystallography before changing direction to pursue a career in the arts and music, her original love. Her compositions have been used on a TV advertisement for Kent's Cavern, for two computer games, to commemorate Holocaust Memorial Day in Exeter and to celebrate a choir exchange between South Brent and Châteauneuf-du-Faou.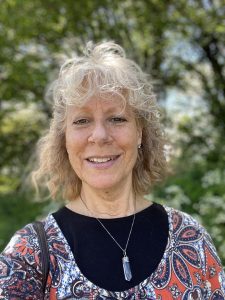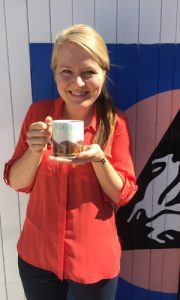 Suvi Rehell - Artistic & administrative assistant
Suvi joined MED theatre in May 2016. Suvi is a graduate of the Central School of Speech and Drama at the University of London and has an MA in Theatre and Global Development from the University of Leeds. Suvi has worked as a community artist in Finland developing ways to incorporate arts into social security services and leading activities for their clientele. She has coordinated and led projects and theatre groups for young people and adults with varying needs and backgrounds and is thrilled to work for MED Theatre who share her passion for creating opportunities for communities to participate, develop and excel. Suvi has grown up in the countryside in Finland and feels very much at home in Dartmoor and Moretonhampstead.
Helen Gilbert - Education Officer
Helen joined MED Theatre in 2016, her interest in community theatre having grown from her time at university where she studied Drama and English Literature, including an in-depth exploration into global community theatre practice and the work of Augusto Boal. She has worked as a facilitator, director, writer and as front of house for The Barbican Theatre, The Theatre Royal Plymouth, Down Stage Write, INDRA and with many other Devon-based companies. Helen also worked in America for four consecutive summers as Theatre Director at a children's Summer Camp. Helen has a passion for using theatre not only as an art form but also as a basis for improving self-confidence and the ability to achieve and gain more from life.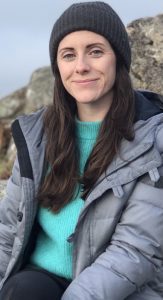 Fern Lindsay- Education Outreach Officer
Fern joined the MED Theatre team in October 2021 having moved from rural Aberdeenshire in Scotland where she worked as a Drama Teacher for almost 10 years.  Fern has an MA in English & Education from the University of Aberdeen and studied Drama at the University of Strathclyde.  Fern has previously worked at Edinburgh's Festival Fringe and with Aberdeen Performing Arts. She worked with the National Theatre of Scotland in a community project, 'Granite', exploring the history of Aberdeen.  She loves encouraging young people to follow their passions and enjoys supporting them to build their confidence.  If Fern isn't walking or wild swimming with her collie on Dartmoor then she can be found in the veg patch or baking in the kitchen.
Florrie Taylor- Moor Voices Project Co-Ordinator / FREELANCE CONSULTANT and DRAMATURG
Florrie joined MED Theatre in September 2019 as the Moor Voices Project Co-ordinator, having graduated from the University of Exeter in December 2018 with a BA in Drama and an MA in Theatre Practice. There she gained experience in devising and directing original work, ensemble and physical theatre. Since graduating Florrie was commissioned by Fluid Motion Theatre Company to develop her solo show A BITEsized Conversation, which premiered at the All In The Mind Festival in September 2019. She set up One Step Theatre with former MED Theatre employee Sarah Sharp; delivering interactive performance workshops for young people and their families across Devon.  Florrie was also a member of the Lab Company at Theatre Royal Plymouth, there she Co-Directed [This is a Play], which ran in The Lab in July 2019. She is passionate about delivering high quality arts engagement for young people and creating work that ignites the imagination and brings real stories to life. Alongside her job at MED Theatre Florrie continues to make her own work in the South-West and London.
ROSE HAYWARD - FUNDING AND SUSTAINABILITY OFFICER
Rose joined MED Theatre in November 2018 in the role of Funding and Sustainability Officer. She trained in Contemporary Storytelling and Performance at the Eden Project and went on to receive a first-class honors degree in Theatre and Performance from Plymouth Conservatoire. Throughout her, training Rose gained experience in interdisciplinary performance making, drama facilitation, storytelling, and small-scale theatre. Above all it was through her training she came to realise the power the arts have to be a catalyst for positive transformation in society. Rose is elated to be a part of the relevant work MED Theatre is doing in and around Dartmoor.
This post was funded by a grant from Heritage Lottery Fund Resilient Heritage. Sarah Sharp - education officer
Sarah joined MED Theatre as temporary replacement for Helen Gilbert in October 2018. Sarah gained a first class honours degree in Drama from the University of Exeter where she received training in applied drama with a focus on working with young people. Using this training she worked on multiple projects across the Devon area including at the children's ward of the Royal Devon and Exeter Hospital and with a local branch of the Scouting Organisation. Sarah has gained experience with directing, stage managing and producing fringe performances and supervised the running of a venue at the Edinburgh Fringe Festival this summer. Sarah was excited to work with MED Theatre until Helen's return to further her experience in facilitating community theatre and help promote artistic engagement within the community. 
Lucy Hirst – Education Officer (job share)
Having graduated from the University of Exeter in 2014 with a first class honours degree in Drama, Lucy spent the following year developing her theatre practice within communities across Devon, specialising in the development of young people. During that period, Lucy assistant directed a Theatre Royal Plymouth Young Company production, worked in disadvantaged urban areas as a Lead Practitioner for both the TRP and The Northcott Theatre, founded her own youth theatre company that aims to raise creative aspirations in young people and acted in a London-based production that partnered with 'Talk2Minds' charity and promoted awareness of PTSD. Lucy worked for MED Theatre from October 2016 to November 2017 and is working for Theatre Royal Plymouth. 
Sarah vigars - artisitc & administrative assistant
Sarah joined MED Theatre in February 2013 in the new post of Artistic Assistant. She originally trained in Theatre Design at the Royal Welsh College of Music and Drama (Cardiff), graduating in 2012 with a First Class BA(hons) degree. Sarah has worked as a designer, design assistant, puppet maker and prop maker for a number of theatre companies. In the south west this has included Puppetcraft, The Abyss Theatre Company and Theatre Alibi. Previous experience elsewhere has included National Theatre Wales and the Finborough Theatre, London. Sarah has also worked as an assistant practitioner for the Theatre Royal Plymouth's Creative Learning department. She has developed a specialism in puppet theatre, her particular passion.  Sarah founded and ran MED Theatre's drama club for 5-7 year olds, 'Rising Lights'. 
Grace Swordy - Education Officer ( maternity cover )
After studying Politics at UCL, where she  spent more time getting involved in theatre and outdoor education, Grace followed her feet to Spain where she set up a theatre company, Dusty Apple, and worked in Barcelona for two years. Returning to England she worked with the National Youth Theatre, the CYN in Bristol and in Devon on The Common Players production of Jerusalem. Her love for theatre and the outdoors has brought her to Devon where she was very excited to work for MED Theatre for a year, including being the lead creator of their Whitehorse Hill promenade play.
MED Theatre is governed by a board of directors, who are its trustees. Currently the board is as follows: Julia Oliver (Chair), Olivia Young (Vice Chair), Mark Woolner (Treasurer), Fiona Avis, Claire Smith, Jess Wynne-Jones, Rae Hoole,  Christine Holding, Allison Caverhill.