Wild Nights Young Company – Pilot Project Diary 2004-6
Wild Nights Young Company – Project Diary 2004-6
FEATURING THE CREATION of 'ROOTS' 2004-5 AND 'LORICUM' 2005-6
A pilot camping trip with Devon Discovery marked the beginning of the Wild Nights Young Company. It was suggested that we explore Dartmoor to find inspiration for our writing, and it's fair to say that we did. Many ideas were born, and they later became the foundation for Roots.
We went to Brimpts farm for this inspirational trip. We spent one night down by the river, and two days exploring our surroundings. The trip was fascinating. I can still remember all the conflicting emotions running through my mind as we were led through the dark and desolate wood in the middle of the night. It was a new experience; exciting, yet so terrifying. The next morning, we saw a different side of Dartmoor. We were woken up very early and taken up the top of a hill, far away from our campsite, and told to close our eyes and sit in the middle of the field in silence. Every single sound seemed so fragile in my ears, bird song so delicate; it was chilling to be alone in an unfamiliar place.
The first of our trips proved to be an experience none of us will ever forget. It was very influencial – many aspects of what we had seen and experienced formed ideas which were moulded into short stories, and eventually merged together to form Roots.
October marked the beginning of the Wild Nights Young Company project proper. Members had ideas forming in their minds. Some people brought along either a short scripted piece, or an idea we could improvise around. This was not serious devising for Roots, it was mainly for us to bring ideas that we thought we could make something out of, and it gave people a chance to have a go at writing and directing. We still needed futher inspiration before we could get serious about creating our play.
The WNYC travelled to Pixies Holt for our second inspirational trip with Devon Discovery. This time around it was different, as we were subjected to cold conditions. It would be inappropriate for us to camp outside, so we stayed in a residential centre. The idea of this trip was different as well. Now that some people had ideas, the main purpose of this trip was to expand them. Also, our stroytelling skills were tested, as we were taking part in storytelling sessions each evening. These were useful, as they gave us techniques on how to tell a story successfully; the skills could be transferred to our writing technique. We were given hints on how to build up tension and suspense, and how to describe a scene effectively. I don't think Roots would have been written as well as it was without these sessions.
There was no walking at night this time around – no way for us to see Dartmoor in a different light due to the weather conditions. However, the excursions proved to be both inspirational and educational, as we learned how Dartmoor was formed and all about the oak woodland of the Dart valley. Theweekend at Pixies Holt gave us a different perspective, and we were able to build on ideas we already had, as well as coming up with more.
We began serious devising for Roots, looking at an idea that someone had, then adding to it, discussing what we thought would work. Then we improvised around a starting point, getting to know the story, before we devised around that basis. It was a plan that seemed to work. We would study about two ideas each Tuesday night, and decide as we progressed which parts of each idea would fit in with a storyline that was slowly forming. We still needed some extra inspiration, but we were on our way to creating Roots, working both together and independantly.
For even more inspiration, the WNYC went to Yarner Wood for a day trip, with Phil Page. There, we explored Yarner and learned about the issue of non-native beech trees- a subject we were keen to include in Roots. We had to look at the issue from different perspectives though, before we could understand why people feel the way they do, and how we could write this into a play. We also filmed the scene where IF is created. The performance was edited, and now the video we made that day is a memorable part of the WNYC project. Performing that one scene gave us all a real eagerness to complete the project.
Going to Yarner did broaden our ideas. We learned more about beech trees than we thought we would, and were able to include the issue of them being an alien species in Roots.
With more ideas than before, we had to get serious. We decided on which ideas we would use, and where they would fit into the story. It was sounding really complicated, we weren't sure if it would make any sense at all. But we managed to merge it all together. Each writer went away and scripted their scenes, and eventually we had a completed script. Seeing it all down on paper together in the form of a script was reassuring, because it all made sense, and we all agreed that we had done well devising, as it was a thought-provoking piece.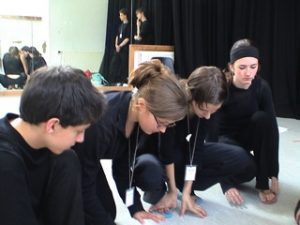 It was decided that the WNYC should perform a selection of scenes during Refugee Week at the Barbican theatre in Plymouth, as the issues adressed in the play seemed appropriate. Dan selected six scenes for us to perform, and we began to rehearse them extensively. Some people were not available to perform in Plymouth, so some of us had to perform parts other than the ones we had been assigned. Performing at the Barbican was a big deal for everyone – we had never performed anything with MED on a big stage in a big theatre. We were all very nervous, especially as it was all very high maintenance. We had official backstage passes, and a dressing room. The tech rehersal was intimidating, yet reassuring, as we knew the lighting and sound would be perfect. It was a fun day, but very tiring, we were rehearsing lots so we could get our scenes perfect. In the end, the performance was a success. Everyone overcame their nerves and performed with an amazing amount of energy.
Being at the Barbican gave us a taste for performing our own work. Seeing the audience's reaction made us eager to perform the whole thing. Being at such a big theatre gave us the enthusiam we needed to move on with the project.
We began an intensive period of rehearsing. We were all so proud of the writing we had produced, and we were so eager to perform it to the highest standard, so that the audience could see how great it really was. It was a tiring time, but we all had a goal in mind, the performance, and we knew we had to push ourselves to the limit to get there. All the hard work would be worth it in the end.
By the end of July we were all exhausted, but excited about the performance. We worked hard at the dress rehearsals, and then it was performance time. Everyone was nervous backstage, but the perfomances were successful, and we were incredibly proud of ourselves, knowing that we had created this peice, and seeing the audiences appriciation gave us so much satisfaction. We were sad that Roots was finished, but we knew that we were only halfway through the project.
After the summer, the WNYC were reunited to start work on Loricum, the next MED theatre community play. We knew that this would be a collaboration between us, the WNYC and Mark Beeson. Over the following couple of months, we met on Tuesday nights, as we had done before, to discuss new ideas. Our starting point was a phrase: 'While there is still dance and time.' We were introduced to the characters Tom and Amy, and given a possible scenario for the first half of the play by Mark. We acted this out, and once we knew the characters, we were able to develop a story surrounding them and other characters. This time around, we had to consider the people who would want to be involved, as this would be our annual community production. Therefore, we were adding in characters all the time, trying to figure out where we could expand the story. When we had the story mapped out, we assigned different people to each scene, and they went away and wrote it. When we had a substantial amount of script, we put what we had together and went through it. There were plot holes. It was far from completed, which was worrying, because we were aiming to get it done before the reading in December. After more discussion and debate, we created more characters to fill in the gaps and more backstory so that the entire play would make sense. We got there in the end, after months of really hard work we produced a rough draft of Loricum.
After the rough draft was read through and we had decided that it was okay and made sense, it was time for the reading. Luckily, the cast approved of it, and although there were a couple of scenes still being scripted, we knew that we'd be alright.
Loricum was cast and completed, and the rehearsal period began. We attended production meetings to tell the professionals what we wanted from them. We were all given the chance to direct the scenes that we had written, so they could be performed exactly how we had pictured them as we were writing them. We were encouraged to comment on how our scenes were progressing during runthroughs and rehearsals. The cast were impressed with the standard of what we had written, and we were impressed with how Loricum was coming together. It was our work or writing, our visions, and it was incredible to see them come to life.
The dress rehearsal period began, and although everyone was exhausted from all the evenings of hard work and runthroughs, we were all excited and eager to start performing. You could sense the anticipation in the air, from the cast as well as the writers. I remember feeling quite worried and anxious as well. I wasn't sure if the audience would understand the complex relationships; it had taken the cast long enough to understand all the relationships and complications, so the writers were concerned, but we were determined to enjoy the experience of performing our work again.
We began touring with the perfected Loricum. With Roots we had just performed at Moretonhampstead, but we were travelling to different villages with Loricum, so there were some doubts as to whether it would be a success or not, but as with any other MED play, the other members were there to support us and encourage us. Opening night gave us such a buzz, all our fears just disappeared, and the reluctance was replaced with a new found eagerness. The following nights were successful too. Luckily, the audience seemed to understand it, and we received amazing reviews. None of us wanted it to end. But we ended on such a high, and we'll treasure the memories forever.
The WNYC has given young people a chance to explore Dartmoor in all its natural beauty, write about what they want to, and perform what they feel will make people think. It's given us a chance to develop new skills, in acting, writing and directing. The WNYC are currently taking a break, but our next step will be to create a film of Roots. We have discussed this, and have extracted the parts that are most interesting to give us what will be about ten minutes of footage. This will be a great experience for young people, as we will be given the chance to develop skills in both film-making and editing. The WNYC are very excited about this next stage, and cannot wait to get started.