History
THE HISTORY OF MED THEATRE
The origins of MED Theatre lie as far back as a play called The Badgers, written by playwright Mark Beeson, which was performed by a group of friends from the Dartmoor area in 1980, directed by Dartington theatre graduate Heather Todd. The Badgers, a play whose subject matter displayed a parallel between ecological and social issues on Dartmoor, was a distillation of six months' fieldwork on Dartmoor during 1979 when Mark took part in a survey of attitudes to archaeological sites in the parish of Widecombe-in the-Moor. The play was rehearsed on a natural granite 'stage' on Easdon Tor, near Mark Beeson's home, and was performed before invited audiences in Easdon barn and in a private theatre at Poundsgate.
This experience, combined with time away studying blue monkeys on a mountain in Malawi, led Mark to focus on writing original drama specifically for and about the place where he was brought up. His next play, The Hedge, was written as an entry to community theatre exponent Ann Jellicoe's Village Community Play Competition, held in 1982. A cast and crew were found to produce this play in conjunction with Phil Oliver, who subsequently began the development of MED Theatre's strong musical tradition, and it was performed in April 1984 in Manaton Parish Hall. Mark went on to write three more plays specifically for performance in Manaton Parish Hall.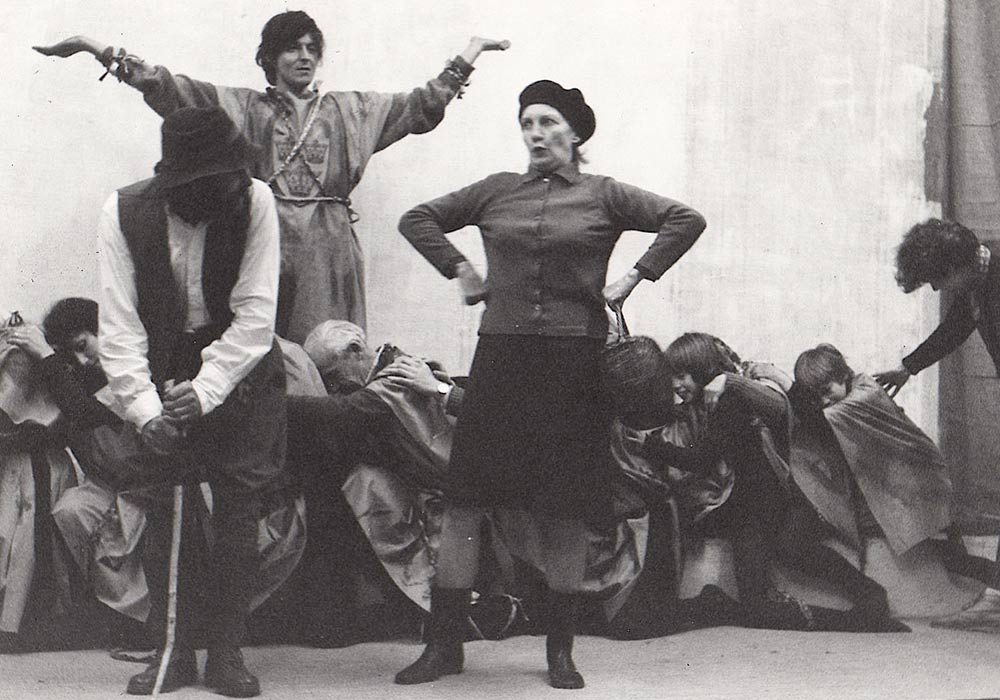 In the light of the success of these productions, including The Swallows which transferred to BBC Radio 4, The Manaton and East Dartmoor Theatre was formally constituted and registered as a charity in January 1989, the first dedicated Dartmoor Theatre organisation, supported initially by a grant from the Carnegie UK Trust.
OPPORTUNITIES FOR YOUNG PEOPLE
In 1991, with the help of our first project grant from South West Arts, we began training workshops for young people which have been a core part of our work ever since. In 2003 we moved from the parish of Manaton to our current premises in the centre of the small Dartmoor town of Moretonhampstead. In 2004 we added digital film-making to our activities, and were commissioned by BBC2 to make a dance documentary about the life of Kitty Jay – Grave Intimations.  In 2006 we received an investment from Futurebuilders England which led to the creation of a dedicated education programme, led by an education officer.
Now known as MED Theatre, we have continued to produce original drama which is directly related to Dartmoor. At the time of writing, MED Theatre has produced around Over 40 full-scale Dartmoor dramas, and 37 plays written and performed by young people, as well as more than 55 plays written by children in local schools.
Though one or two of our members have been involved since the time The Badgers was performed, younger participants are now leading the way for the next generation by writing original Dartmoor-related plays of their own.