In Memory of Mark Beeson
It is with heavy hearts that we must announce the death of our Artistic Director and Founder, Mark Beeson. Mark was very special to us as a team but beyond this he was a beloved father, grandfather, mentor, writer and exceptional mind who was admired by many. Mark produced his first community play, 'Badgers', in 1980 and this was the beginning of his life's work with MED Theatre which was officially registered as a charity in 1989.
His work with young people through MED Theatre was especially important to him and he had helped to shape the lives of many who grew up in the Dartmoor area. An obituary for Mark is being written, which we will share in due course, and we hope in the near future to host a commemorative event for all and any who would like to celebrate his life and work with MED Theatre. In the meantime, however, we as an organisation are continuing with all elements of our work as Mark would have wished, including going ahead with performances of our upcoming production, 'Peat'.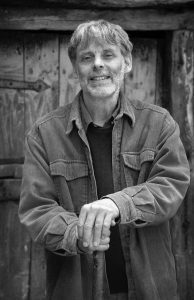 We send our love and support to Mark's family and all who knew him, and thank the community for their support at this difficult time.